Nate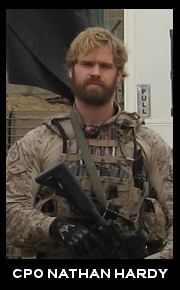 In honor of Chief Petty Officer Nate Hardy, who was killed Sunday
February 4th during combat operations in Iraq. Nate is survived by his
wife, Mindi, and his infant son Parker.

First posted 12 February 2008
2 Muscle-ups

4 Handstand Push-ups

8 2-Pood Kettlebell swings

As many rounds as possible in 20 min
HEROES WEEK MEMORIAL WORKOUT SCHEDULE:

Friday: "Randy" – first CrossFit WOD we ever did at Catalyst.

Saturday:
"DreamTeam" in honour of Sara Fryia.  Catalyst Family Potluck at the
Park!  Grain-free!  For details on facebook, join this event!   CrossFit Games 2009 movie at night!


Some of these WODs  are scary, it's true. All of these folks, despite
their valour, were scared. They acted anyway. Do the right thing.Entry daily by punch card. Heroism earned after the "GO!" command at the user's discretion.KNOW
A LOCAL FIREFIGHTER, POLICE OFFICER, OR SOLDIER?  INVITE THEM! 
CROSSFIT GROUPS ARE FREE FOR *HEROES!* ALL WEEK! THE SCHEDULE IS HERE.