Randy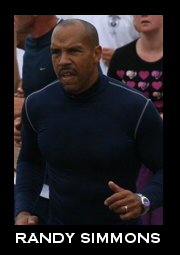 In honor of Randy Simmons, 51, a 27 year LAPD veteran and SWAT team
member who was killed February 6 in the line of duty. Our thoughts and
prayers go out to Officer Simmons' wife and two children.

75# power snatch, 75 reps

For time
This was the first CrossFit WOD done in our initial experiment by Tyler. He, uh, didn't like it.

HEROES WEEK MEMORIAL WORKOUT SCHEDULE:
Thursday: "Nate" – a local favourite. Get your muscle-ups on!
Friday: "Randy" – first CrossFit WOD we ever did at Catalyst.
Saturday:
"DreamTeam" in honour of Sara Fryia.  Catalyst Family Potluck at the
Park!  Grain-free!  For details on facebook, join this event!   CrossFit Games 2009 movie at night!
Some of these WODs  are scary, it's true. All of these folks, despite
their valour, were scared. They acted anyway. Do the right thing.Entry daily by punch card. Heroism earned after the "GO!" command at the user's discretion.
KNOW
A LOCAL FIREFIGHTER, POLICE OFFICER, OR SOLDIER?  INVITE THEM! 
CROSSFIT GROUPS ARE FREE FOR *HEROES!* ALL WEEK! THE SCHEDULE IS HERE.