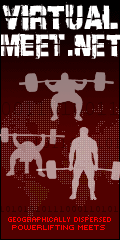 On a nice Saturday morning, Phil, Eddy C. and I committed our deadlifts to internet perpetuity. Had a nice warmup. Speaking for myself, I know I could have eaten more the day before; I came in light, further underscoring the lack of food.
Phil opened right up with 365, which was a PR. A big risk, but he nailed it without a hitch (literally) to get 3 white lights (2 is a pass.) Ed got it too, no problem.
385 – Phil hit it, Ed missed.
400 – Phil missed. Ed missed his second attempt at 385. Good form, just gotta get stronger – and that's after only about 2 months of deadlifting EVER!
I opened at 465, which is high as an opener for me, but I was aiming for a 515 lift on the day, and wanted to jump right to 500. After all, I'd had a 485 unbelted AND a 510 within the last 2 weeks.
465 zipped right up, but I noticed I was slow off the floor, and my legs extended faster than my back could keep up. I decided that it was good – that my hips were stronger than I was used to, that's all.
It REALLY meant that I'd lost a bit of strength in my lower back. Even though your hips really determine the lift, your back has to be able to maintain spinal arch integrity, and guess what? Mine can now maintain integrity through 465lbs – but not 500.
Surprisingly, 465 alone was enough to win the meet. We'll go again in December – who's in?